This past weekend saw the beginnings of our giant kitchen remodel, beginning with the destruction of the ugliest linoleum floors known to man!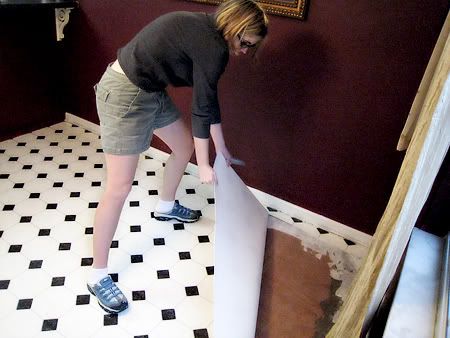 The first cut.. man, did that ever feel good! Pardon the work clothes. Style was not high on my list of priorities that day.
Matt fashioned himself a little house out of the first chunks of the underlying Luan. *sigh* I can't take him anywhere.
The frustrating Luan was original to the house and ran underneath the baseboards and cabinets, so a lot of it had to be cut out. Not fun!
Our poor construction zone of a kitchen. I'm not posting real "before" shots just yet so the after effect will be more dramatic, but I can say that the backsplash, countertops, and that ugly flourescent light are all going to be GONE in the after pictures!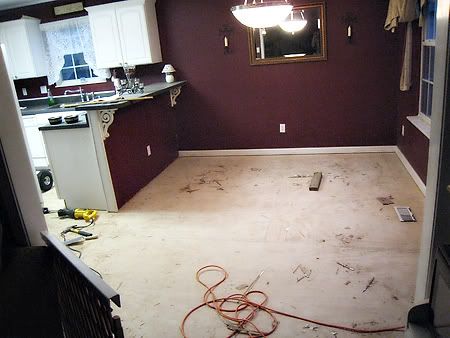 The breakfast area, all finished.
Back hallway.. almost finished!
Have you ever wondered what is lurking underneath your appliances? We found this under our oven/range. *shudders* There's no telling how long this crap has been here. It's going to feel so good to have fresh clean floors.
Day 2 saw more demolition in the half bath and laundry room, but I didn't take pics. As I speak, the tile people are downstairs laying the thinset and backer board. I hope hope hope that they get to lay some tile today... I can't wait to see it!!